The Elliot Institute News
From the Leader in Post-Abortion Research
Vol. 7, No. 17 -- October 3, 2008

UnChoice Campaign: TheUnChoice.com
Read previous editions of The Elliot Institute News!
"They Didn't Prepare Me For the Horror"
Denied Authentic Choice,
Not Told of the Impact of Abortion
Melinda Tankard Reist
In a previous excerpt from her book Giving Sorrow Words: The Unspoken Pain of Abortion, journalist and women's rights advocate Melinda Tankard Reist discussed how inadequate and deceptive pre-abortion counseling contributes to the lack of authentic and fair choice. In this excerpt, she describes further examples of coercion, mistreatment of "patients," and physical and psychological aftereffects Also, the many women who were deceived about fetal development only to be blindsided by the irreversible and traumatic reality of losing a child.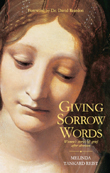 Most women said they were totally unprepared for what they would go through during the abortion—and after. They felt cheated that abortion was presented as something quick and easy and over with when the reality for them was very different.

For example, Melody felt totally unprepared for the experience of the abortion she had in 1990:

The doctor and nurse ... didn't prepare me for the horror of termination ... I could hear them saying it was a healthy nine-week-old fetus and everything was intact ...

Carol also describes her experience:

It has been ten years now, almost to this day, and I can still remember, clearly, those fatal few minutes that I will regret to my dying day. The abortionist did not speak or look at me except to growl, "Be quiet and keep still," when I began to shake and cry against my own will ... I cannot erase [the experience] from my memory.

Some women wrote of experiencing a sort of psychic trauma immediately after the abortion. Patricia wrote:

When I came out of the anesthetic I began to panic. I was dreaming or imagining where have they taken the soul of my baby. I felt robbed; I felt something hideous, terrifying. I was in a state of fright and shock. All I remember is thinking, "Where have they taken my baby?"

A significant number of respondents suffered physical side-effects, ranging from heavy bleeding, sometimes for months, to infection and incompetent cervixes. A surprising number had to have a second procedure to remove "retained products."

Mariah, from Melbourne, woke from the abortion in "excruciating pain."

I began crying in pain, ... there was blood everywhere. The pain was unbearable, it was like a knife kept stabbing me in the stomach over and over again ... The nurse gave me an injection for the pain, but it didn't help. About 15 minutes later she gave me another shot; it still didn't help.
After the third shot she was so worried because I was still in pain that she called the doctor to take a look at me. When the doctor took the folder from the end of my bed and looked through the pieces of paper, he was shocked. He called the nurse over and asked if it was correct the amount of pain killer shots she'd given me. Because I was still crying and holding my stomach in pain, the doctor had no other choice but to inject me again ...

Lara, who underwent an abortion at the age of 21 in 1996, also suffered physically.

I began to have pains in my stomach and I rang the 24-hour
hotline where they told me to go back. I did this and I was given a course of antibiotics and treated for an infection in the womb. It appeared that they had no records of my procedure. A week later I was still suffering pains to the point I could hardly walk. I was rushed [to the hospital] ... I was told I was not the only one who had gone through this ...

I remained in hospital for four days ... My condition was only getting worse ... I was now unable to walk ... [I was] told that my body was probably just in shock. [A few months later] I found myself still going through the emotions of a pregnant woman, and close to the day I would have had my baby, I had labor pains. I lay on the floor in pain, crying and alone ...

Ginny, a mother of two, also says she was not made aware of the implications of the abortion. She was told only that the abortion was "similar to a [D&C]." Ginny has been hospitalized on psychiatric grounds a number of times since the abortion and has not been able to return to work. She self-mutilates and experiences terrible nightmares. At the time of writing, she was undergoing shock therapy.

I would hear a baby crying in my sleep or I would get up thinking I had to breastfeed or just getting up to check on the baby, but it was hearing a baby crying that was the worst. No one prepared me for the years of nightmares, the feelings of guilt and the pain.

A number of women wrote or spoke of subsequent problems with infertility. Katarina wrote:

I was told I may not be able to have children because of problems with my ovaries and ... fallopian tubes. If I cannot have children—after aborting [one] and miscarrying another—I will die of an unfulfilled heart.

Theresa lost four babies as a result of miscarriage and stillbirth. She attributes these losses to two abortions six years earlier.

Another woman, Trish, wonders if there is a connection between abortion and cervical cancer, having had three procedures to remove abnormal cells. She had two abortions, forced by her previous husband and, though having two children from that relationship, is not able to have any with her new husband because of the abnormal growths and related problems.

The more common abortion aftereffects experienced by those contributing to this book include uncontrolled crying, dreaming of babies, grief reactions on the date the baby would have been born, fantasizing about the baby, depression, emotional numbness, sleep disorders and anger.

A woman in her sixties wrote anonymously about the abortion her husband made her have almost 40 years ago:

I tried to live with having an abortion, but I lost my confidence in life and have been a very frightened person inside. The veneer that I parade in front of family and the world is very false.
~~~
Excerpted from the book Giving Sorrow Words: Women's Stories of Grief After Abortion, by Melinda Tankard Reist. This book is available from the Elliot Institute under our Acorn Books publishing imprint. For more information, visit www.theunchoice.com or call 1-888-412-2676.

---
Previous Editions of the The Elliot Institute News Available Online
We're pleased to announce that all the previous editions of The Elliot Institute News for 2008 are now available online at www.theunchoice.com/news.htm. You will find:
news and commentary

updates on new post-abortion research

excerpts from our books and our traditionally published, hard-copy journal, The Post-Abortion Review

and more!
Eventually we also hope to have editions from previous years online as well. So if you are a new subscriber, or are looking for something we previously published, be sure to visit this page!
You can also find many back issues (up to 2003) of The Post-Abortion Review online at www.afterabortion.org/PAR/index.htm. We are continuing to update these as well.
---
Help others access our UnChoice education/outreach campaign and background information—including our ads and fact sheets, latest news and information, compelling testimonies, and more—by placing the following link on your web site:

You can simply cut and paste the icon above or use the text-only link below it . If your site already contains a link to our main Elliot Institute site at www.afterabortion.org, please include the link to www.theunchoice.com as well, to help direct users to new materials and information.
Please let us know if you have linked to our site by sending an email to elliotinstitute@gmail.com
---
DONATIONS to support the Elliot Institute's post-abortion research,
education and outreach can be made here

Encourage others to sign up for this free e-mail list, here
---
Please Forward this email to Your Friends and Associates. But if you do forward it, you should remove the unsubscribe link at the bottom or they may unsubscribe YOU by mistake.
---