"I regret selling abortions at Planned Parenthood."
A message from Abby Johnson
"Every day of my life I think about the women I took from. I took away their motherhood, I devalued them, I broke their confidence, I betrayed them. How I wish I could look into every one of their faces and tell them how sorry I am. ... I wish I could be there to wipe their tears when they mourn for their lost child. To know that you committed a terrible wrong that you canít make right is one of the most desperate feelings in the world.
"And as desperate as I feel, I canít make those wishes come true. But I do my best everyday to make it up to those women and their children. I failed them once, but I wonít do it again.
I know they havenít forgotten their children, and I havenít either."
Abby Johnson: I Regret Selling Abortions at Planned Parenthood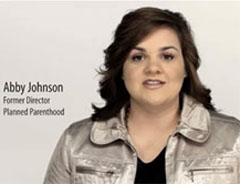 I never had the honor of talking to Dr. Bernard Nathanson. But someone told me once that he asked Dr. Nathanson about his remorse after performing thousands of abortions. Many of us that have once been in the abortion industry are frequently criticized for our public ďlack of remorse.Ē
Dr. Nathanson explained to this man that if he actually allowed himself to feel the depth of his remorse, he wouldnít be able to live with the pain. I would say that is pretty accurate for most of us who have once lived and walked in those hallways of evil. Iím not sure my heart would take the pain if I really allowed myself to feel what I had done. (continued off-site: lifenews.com)